Guest Editor Damian Lentini
The low growl pervaded the space – some sort of bass wind instrument – accompanied by the distinct scratching sound of a record that had been played far too many times. Then silence, followed promptly by an uplifting form of easy listening music; the sort commonly associated with the tropical pool bars so often seen in films from the 1960s and 70s. However, in place of a Bakelite-toned Tropicana, the setting for this rather ragtag mix of piña colada-infused muzak was instead the spaces of Galerija Vartai in Vilnius, on a particularly overcast day in October 2018. The gallery spaces themselves were rather empty, save for a series of rather archaic-looking amplifiers and cubic or canonical-shaped speakers that absorbed and subsequently relayed the sound between rooms. This contrast between the two landscapes, respectively evoked by the sound and the spaces, continued through the gallery: one purely fantastical, scratchy and no doubt filmed in Technicolor; the other grey, austere and yet also evocative of a form of Soviet era futurist design aesthetic that would have not all that long ago symbolised the utopian potential of modern technologies.
Even though I was unaware of it at the time, this particular exhibition – 'Sraigės kambarys' (Cochlea Lounge) by Arturas Bumšteinas and Gitis Bertulis – would serve as a leitmotif for the rest of my trip to Vilnius, as well as provide the impetus for my interest in the sorts of soundscapes that were being produced by artists hailing from – or living in – Lithuania. For although a completely different purpose had brought me to the gallery on that particular autumn day, sound and its atmospheric perambulations in and through the spaces of the city was at the forefront of my mind from that moment on. When I met with Lina Lapelytė the following day, we discussed her performance Pirouette, alongside the recently-published LP Have a Good Day! that she had just produced with Vaiva Grainytė and Rugilė Barzdžiukaitė (the three were about to embark upon their award winning installation/opera Sun & Sea at the 58th Biennale di Venezia). Later that evening, I attended Robertas Narkus' lecture performance Prospect Revenge at the Contemporary Art Centre, Vilnius and could not help but notice the ways in which the almost frantic timbre of his voice would bounce off the walls of the space, heightening the urgency of his 'presentation'. Then, the following evening, I visited Deimantas Narkevičius' studio, where we listened to his work A Tang of Lomo Film (2011): a large, Soviet-era Lomo Kinap cinema loudspeaker that, after the requisite twenty minutes of warm-up time, produced some of richest and most corporeal sounds I have ever heard.
Of course, many other artists working with sound did try to make their presence as unobtrusive or harmonious as possible. In 1982 for example, Yoshimura Hiroshi bequeathed the demo of his Music For Nine Post Cards to the Hara Museum of Contemporary Art in Tokyo, importantly labelling the recording as 'environmental music' (kankyō ongaku [環境音楽]), that was to be specifically played within the building's architecture and perceived by the audience as they moved between the galleries. Important within this context is the use of the word 'environment': locating the sound spatially at the very centre of one's encounter within the artworks, rather than relegating it to the background. By signalling the manner in which they pervade every nook and cranny within an area, Yoshimura also signalled sounds' ability to irrevocably alter both the environment in which they are encountered; including the bodies of the people immersed within them. And it was precisely this sort of interest in sounds' generative affects that compelled Haus der Kunst to stage 'Atmospherics' in late 2021: an evolving, hybrid exhibition of soundscapes crafted by Lithuanian artists across three evenings.
Underpinning the project was the research of the anthropologist Kathleen C. Stewart into the ability of live events to drastically alter the space in which they are enacted. As she notes in one particularly memorable paragraph:
An atmosphere is not an inert context but a force field in which people find themselves. It is not an effect of other forces but a lived affect. A capacity to affect and be affected that pushes a present into a composition, an expressivity, the sense of potentiality and event. It is an attunement of the senses.
As Stewart observes, the atmosphere created by an artistic event or intervention into the everyday space highlights the former's ability to enact a mutually acknowledged 'capacity to affect'; a performative encounter that profoundly changes both the performer/ object on display as well as the audience. Although predominantly centred around on theatrical spaces, Stewart's focus on the production and circulation of lived affects could just as easily be extended to include all spaces in which sound is both produced and heard, including the everyday spaces of the city. Indeed, Stewart herself acknowledges the aesthetic dimension of such an approach, noting that each event 'constitutes a compositional present, pushing circulating forces into form, texture, and density so that they can be felt, imagined, brought to bear, or just born'.
This idea of sounds materialising the concept of atmosphere in the sense of things 'taking form, assuming a texture and density',4 is also something that is present within all of the contributions that make up Soundscapes as a Journal; which I view as both an extension of – but also independent to – the sorts of sonic atmospheres generated by my encounters in Vilnius, and the living exhibition in Munich. For although they do indeed pervade spaces, one of the key characteristics of a soundscape is its ability to also elude and elide the geographic and temporal boundaries that constitute our encounter with them: although located within a specific place, a soundscape nonetheless always also harbours the potentiality to seep into other spaces, including within the pages of a journal, long after the event itself has passed us by.
Furthermore, this ability of a soundscape to coalesce and intermingle at certain spatial and temporal junctures that are extraneous to the moment of their creation – on a page, or accessed via a QR code – allows us to conceive of each of these contributions in terms of resonances. That is, individual moments of enunciation that include, within this journal, a famed concert that very few people attended; an exhibition planned for a date in the future; or a perceived sound that unintentionally interrupts a visual tableau. This ability of sound to spill out from the space of its specific enactment – what Stewart refers to as the 'charged atmospheres of everyday life'5 – allows for each of these contributions to disentangle themselves from the immediacy of the everyday and instead engage with the porous domain of myth and memory; both of which have an equally determining role with respect to the legacy and renown of a particular soundscape.
While some of contributions deal with these sorts of temporal reverberations, others choose to probe the limits of the journal format by presenting practices that are, by their very nature, utterly antithetical to the printed page. Drawing upon the caesura between the past and future that is so characteristic of the printed page, these contributions attempt to carve out a space for contemplation and critical (re)evaluation that is normally not possible 'in the moment'. Ranging from an examination of the intersection of sound and gender within the context of post-Soviet Lithuania, to the role of clouds, mists and light in determining how we anchor ourselves to a moment in time, these texts propel the materiality of atmospheric and ideological elements to the very forefront of a work's form. In so doing, they underpin the determining nature of these elements with respect to how a soundscape is made and how it is engaged by viewers, who themselves also actively contribute to its form).
Taken as a whole, each contribution to Soundscapes as a Journal – texts, images, sounds and spoken words – seek to uncover hitherto-concealed elements of soundscapes: be it via their inhabitation of spaces and gaps; by focusing on their use of layers and repetition in order to articulate visible and invisible structures; or through an exploration of the technologies that function as a mediating component within their realisation or reception. In other words – and considering the manner in which the previous two years of relative isolation have compelled us to radically rethink notions of sound and space – each text can be seen as a critical interrogation of the transmission, re-articulation and even archivalisation of a soundscape as it traverses political, social, and cultural geographies that are both cartographic and digital. For while this is very much a project that has been conceived in a very real space and time – with a focus on Lithuanian artists and at a moment when a global health emergency has grotesquely morphed into a barbaric political and humanitarian crisis within Europe – it is simultaneously also an exercise into the elasticity and porosity of geographies and temporalities that are highlighted by the immateriality of soundscapes. It speaks of fleeting moments, of half-forgotten memories, and of our ability to genuinely connect with one another through a medium whose form is, by its very nature, perpetually elusive and deferred. Moreover, it speaks to how an unplanned visit to a gallery in Vilnius almost four years ago would engender a fleeting exhibition over three days in Munich, which would then begat a journal of soundscapes that in turn harbour the potentiality for future chance encounters and lived affects.
My heartfelt thanks and appreciation to all of the people whose contributions and support made such encounters possible.
Damian Lentini is a curator at Haus der Kunst in Munich. He obtained his doctoral degree on contemporary art, curation and museum studies at the University of Melbourne in Australia and lectured extensively on the history and theory of modern and contemporary art. After permanently relocating to Germany, he worked on various exhibition projects in both Berlin and Munich, including being awarded a Goethe Fellowship to contribute to the landmark exhibition project 'Postwar: Art between the Pacific and the Atlantic, 1945–1965' (Haus der Kunst, 2016). Since then, Lentini has been extensively involved in major exhibitions and publications featuring El Anatsui, Phyllida Barlow, Kapwani Kiwanga, Sarah Sze, Lina Lapelytė, Sung Tieu, Arturas Bumšteinas, Harun Farocki, Jörg Immendorff, Khvay Samnang, Raqs Media Collective, Forensic Architecture and Dumb Type among others.
This article appears in full in Soundscapes as a Journal, No. 3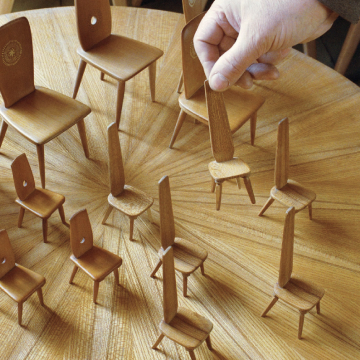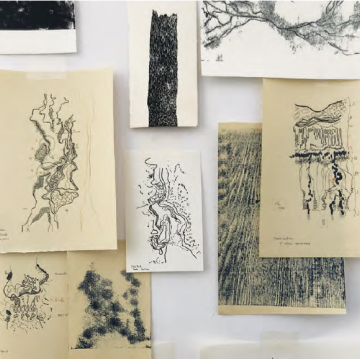 Kotryna Lingienė and Rasa Juškevičiūtė
Kotryna Lingienė and Rasa Juškevičiūtė
Cormorants in Ancient Woods
A conversation between Rugilė Barzdžiukaitė and Mindaugas Survila
Jonathan Lovekin and David Grandorge
A Forest is Like a City – With its own Streets, Squares and Different Land Uses
Interview with Laura Garbštienė and Onutė Grigaitė by Jurga Daubaraitė and Jonas Žukauskas
Cormorants in Ancient Woods
A conversation between Rugilė Barzdžiukaitė and Mindaugas Survila
Thinking Things Through a Forest
A conversation with Nene Tsuboi and Tuomas Toivonen by Jonas Žakaitis
On how the Tree Became a Pellet: Capital Forests of the Baltics
A Forest's Drive for Motion: Acoustic Ecologies and the Sonicity of Labour
Neringa Forest Architecture
Egija Inzule, Jurga Daubaraitė and Jonas Žukauskas
The Right not to be Offsetted
Interview with Cooking Sections (Daniel Fernández Pascual and Alon Schwabe) by Jurga Daubaraitė and Jonas Žukauskas
Forest Paintings by Algirdas Šeškus