United in a Common Vertigo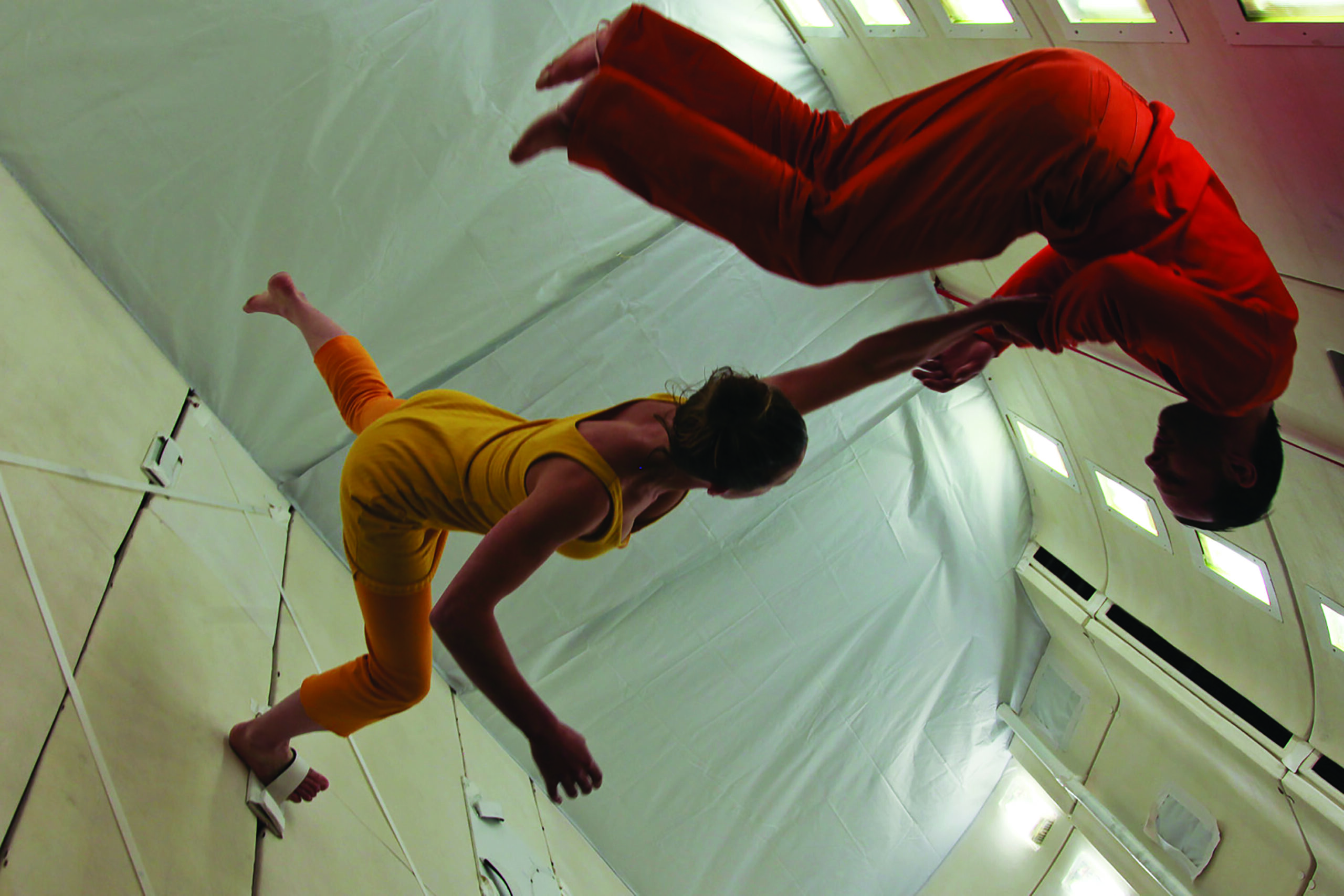 Research and experimentation in weightlessness: Parabolic Flight 2009 with the Space Observatory of CNES (National Centre for Space Studies). Photo: Loïc Parent
In 1990, Kitsou Dubois, choreographer and researcher in dance, became the first artist to experience weightlessness in parabolic flight with the French Space Agency (CNES). Since then, Kitsou has flown on a series of 21 parabolic flights. Over the years, she has been able to include on these flights about 15 dancers and acrobats working with her on her choreographic creations with various space agencies including the Yuri Gagarin Cosmonaut Training Centre at Star City, Russia (with The Arts Catalyst in the UK and Projekt Atol in Slovenia) and the European Space Agency at Novespace in Bordeaux (with Imperial College London and The Arts Catalyst) and again with the French Space Agency, where she was in residence with the Space Observatory of CNES and finally with the European Space Agency. In addition to parabolic flights, she works with dancers and acrobats in other environments where the sensation of gravity has been altered, such as in water and virtual reality set-ups, and regularly collaborates with researchers in science and technology. From stage choreographies to video installations, documentary films to exhibitions or hybrid productions, Kitsou uses her experience and knowledge of weightlessness to explore movement, the sensation of time, the relation to matter, the relation to others and the poetry and perception of an environment where all familiar references seem to have been transformed.
The parabolic flight is a diving aircraft which simulates free fall for around 25 to30 seconds between 10 to 20 times. It is the only way to experience extended weightlessness in the Earth's atmosphere. It was previously only used for astronaut/cosmonaut training or scientific research, before Kitsou Dubois pioneered its use for art as well as science. She continues to bring to audiences around the world the experience of zero gravity through her evocative performances and installations.
Rob La Frenais:
I wanted to ask about your view on space, how it sounds, how it feels, how it touches, how it reads. I was just catching up on your recent work and noticed you use the term 'bodily empathy' in your installations and performances. Can you say more about this?
Kitsou Dubois:
I create immersive situations with both my performances and video installations to create an empathy between the bodies of the dancers/ acrobats and the spectators. Time is slowed down and infinite; we do not know where the movement begins and where it ends. It is as if we are suspended from what is going to happen… the space we inhabit is expansive and it is moving thanks to the interplay of images and light that blur our outlook. Dancers and spectators are united in a common vertigo.
RLF:
You were originally inspired by Gaston Bachelard in your work. Have you found any more philosophical influences in your long career as a weightless choreographer and dancer?
KD:
Yes, José Gil, a Portuguese philosopher and also the work of Alain Berthoz, a neurophysiologist specialising in particular in the 'sense of movement'.
RLF:
Can you say something about your last experience of flying with the European Space Agency in 2009, where you used cameras to create a new installation?
KD:
Yes, at the time what we did was a true prototype. We used tiny cameras in this flight and we adapted circus equipment for the aeroplane: a wheel fixed to the ground, a stick fixed to a joystick, which was the equipment for the show. We brought on board a 3D stereoscopic capture prototype, wide-angle fixed cameras, and a fisheye lens handled by a cameraman who was strapped down in the aircraft. This device was very innovative and therefore complex to perform. To do this, we built a model of our space in the plane in order to test all the constraints connected with stereoscopy in the cockpit. This 3D stereoscopic device gave birth to the installation Perspectives, Time to See.
RLF:
You also developed the use of wearable body sensors.
KD:
I was using experimental technologies as early as 2003, mainly those used in industry, which had been diverted from their initial functions, adapted and made available from research experiments in science, and later art. In the early 2000s, sensory sensors were very fragile. There were many constraints to adapt them to the bodies of dancers or acrobats: friction, support, and the dynamics of movement often damaged the device. The installation was tedious and required constant welding and repairs. These constraints forced us to choose precisely which sensors, for which movements, for which types of sounds and which creative objectives. This is how, depending on the themes and the qualities of movement in action in the performances, we used various sensors: flexion sensors on the elbow and knee joints, pressure sensors under the feet or on a Wiwi games platform, sensors with magnetic fields on the shoulder blades, or Myoware sensors, which record muscle power on the forearms. From flexion (the medical term for bending an arm or leg) to pressure to muscle strength – we were able to analyse the sound impact on new qualities of movement, in order to refine the choreographic and musical choices we made.
RLF:
With the performances you do, particularly the circus performances, how do you draw audiences into the feeling that they are in space?
KD:
With the 3D stereoscopic images I created video installations inside or around the space in which viewers move. I invented immersive spaces that bring into play situations analogous to 3D immersion, like cropped images of dancers projected on a wall, similar in size to the audience without a picture frame. They seem to move throughout the front space of the room. With the circus, I shifted the focus to the figure of the circus performer. Rather than favouring the landing on land, I put the accent on the course of movement between the starting and the landing, in order to obscure the apparatus and to only see the aerial acrobat deploying all directions of the suspended space. We had 3D cameras in the plane, but due to a lack of finance, the audiences on the ground wore 3D glasses, as a way to experience this feeling in an immersive situation. We filmed the dancers in 3D and projected the image on the wall at the Maison Européenne de la Photographie. The images of the dancers were exactly the same size as the people in the audience. They moved the way you would move in space, which enhanced the immersive experience. You didn't actually see the inside of the plane, it was all black, with the silhouettes of the dancers in zero gravity on a black background.
RLF:
I see you are participating in a research project and symposium organised by Annick Bureaud as part of the 'All Women Crew' activities, 'Which Bodie(s) in/for Space'?
KD:
Yes, it's about the complexity of our body, the fact that when we are on Earth we only take care of it when we are unwell and we are totally lost in social media etc. The fact is that when we experience weightlessness we are more aware of our bodies. It's part of the paradox of being inside a matrix where we lose our point of support. The title is: 'Modified Body in Microgravity: Complexity and Paradoxes'. The absence of gravity modifies the sensation of the body. The supports become virtual, the body dilates. It oscillates between a type of hypersensitivity and a loss of sensitivity. There is nothing more; no gravity, no support, nothing but the body and a sensation of infinite movement. Paradoxical sensations arise between emptiness and fullness, absence and presence, loss and anchoring, pleasure and fear, speed and slowness. The experience of microgravity creates an immersive matrix-like sensation while being in an environmental disorder due to the loss of reference marks. As a choreographer and dance researcher, I revisit the fundamental gestures of dance from this experience of another spacetime. Its representation on Earth questions the practices of creation (experimentation in flight, in water, on circus apparatus, with sensory sensors), choreographic writing (linked to the states of the body), the scenic space (immersion in the image and in the sound) and the shift of artistic forms (from dance to circus, through both video installations and in-situ).
RLF:
There's also a political aspect to this symposium. When we first met back in the late 1990s, you were having problems in getting access to Zero Gravity flights as the space agencies were all dominated by men. They didn't take you seriously because you were a woman.
KD:
Yes, because I was a woman, I was a dancer and because I was French. Now the situation is different. Thanks to the support of Gerard Azoulay of the Space Observatory of CNES (Centre National D'Etudes Spatiales) I managed to enter this male-dominated environment. Now the question is of the artistic act in parabolic flights. The scientists think that the cultural sector has lots of money, and the cultural sector thinks that the scientific world has lots of money, so they don't understand each other. Above all, it is a matter of politics. The big difference nowadays is that if you have the money you can get on board a parabolic flight quickly, whereas before you had to wait three or four years.
RLF:
We also see this in the new commercial space tourism with Blue Origin and SpaceX, aimed at billionaires. I have another question about artists working in zero gravity. Before, we had a problem persuading space agencies of the legitimacy of artistic uses of parabolic flights. Now, can we justify the burning of fossil fuels for artistic purposes in the face of climate catastrophe?
KD:
In the past, what mattered was that we helped the researchers and scientists, and worked together to make discoveries. Now you can just buy a flight, the utility for the scientists in the artistic work is lost; it's absolutely useless. The idea is to keep on making discoveries for both the artists and the scientists. I'm not doing the work in weightlessness for fun. I've been doing it for a long time and it really matters to me. I find it sad that the billionaires that went into space recently were shown doing silly things in space. It's not the same thing, obviously. It does matter to me, a lot.
RLF:
So, you think that the research outputs justify making those flights?
KD:
Yes, I think so; in conducting this research we make advances for society. It's very difficult, but I would fight for it! Because changing our point of view as earthlings leads us to discover ourselves differently and to revisit our relationship to time and space.
RLF:
Now I want to talk about gravity. One of the things we discovered through the flights that The Arts Catalyst organised in Star City in Russia in the 2000s was that there were at least four sorts of gravity for 25 seconds, zero gravity, double gravity etc. in a parabolic flight. This is opposed to continuous zero gravity or free fall that you would experience on the International Space Station. Have you considered using that environment, for example working with astronauts on their missions?
KD:
Yes, it would change everything to be able to work in that environment, to stay a long time as opposed to the 25 seconds I have had. It's really different and would concern questions of adaptability. We had a few projects that we started with astronauts to develop a theory of gestures. It's really, really complicated and we were never able to realise those projects – I was very disappointed. I would love to be able to work in this way, but it's a very closed circuit environment. It's very difficult.
RLF:
Who was the astronaut you were trying to work with?
KD:
He was a French engineer on the Columbus station. He was an engineer by training, so he wasn't really interested in a project on gesture on the station; not really the right type. That was a long time ago. Unfortunately, had it been Thomas Pesquet maybe it would have worked. However, this astronaut was a typical engineer and was not really interested, actually, which was why the project didn't go through.
RLF:
What are your thoughts for the future? Where would you like to go next with this subject? I know you have been working with weightlessness since 1990. You are constantly developing new ways of dealing with this experience. If you had the resources, money, time, collaboration possibilities, what would be the ideal development? How might you use the new technologies and virtual environments that have become ubiquitous during the pandemic?
KD:
Well, I'm about to bring out a book – Kitsou Dubois, Danser De L'apesenteur – which will be presented at the symposium 'Which Bodie(s) in/for Space?' I'm also developing a new piece for two dancers with sensors on their body that produce sound and light. It produces a universe in the performance space which is really fluid, with perpetual movement for light and sound. On the stage there is a white backdrop, a screen and a white floor as well. The dancers have sensors, and as they dance the audience feels the complexity of what it is to 'stop'. In weightlessness, it's really difficult to stop. There are two parts to the performance; in the first, nothing is said, in the second, there are some explanations which are given to the audience about the technologies that are being used. They are therefore able to take another look at the piece.
RLF:
If you had another opportunity to do a parabolic flight, what areas of work and what new ideas would you prioritise?
KD:
If I had the opportunity for another flight, I would like to work on the concept of 'melee' with one or two pairs of dancers, what possible displacements, what possible intertwinings, what spaces between bodies can we set up without getting lost? How can we find ourselves when we have moved away from each other and above all how is the bodily relationship established in an exchange of continual flow between two bodies – how can we find autonomy for each of the partners, how can we enhance the listening between two people in zero gravity?
Dr Rob La Frenais is an experienced independent curator, writer and lecturer, working internationally with artists on new commissions. He believes in being directly engaged with the artist's working process as far as possible, while actively widening the context within which the artist can work. From 1997 to 2014 he was curator of The Arts Catalyst where, along with director Nicola Triscott he developed an ambitious art/science programme. His last exhibition with the Arts Catalyst was 'Republic of the Moon'. As an independent curator he led a major project by Tomás Saraceno in White Sands, New Mexico and was the curator of 'Exoplanet Lot' in the Lot Valley in France. He was a visiting professor at Srishti Institute, Bangalore, and a visiting curator at FACT Liverpool, and the National Taiwan Museum of Fine Art, where he curated 'No Such Thing As Gravity'. He writes regularly for Art Monthly, UK and makery.info France. He was the first curator to enter zero gravity at Star City in 1999.