The World is Here for You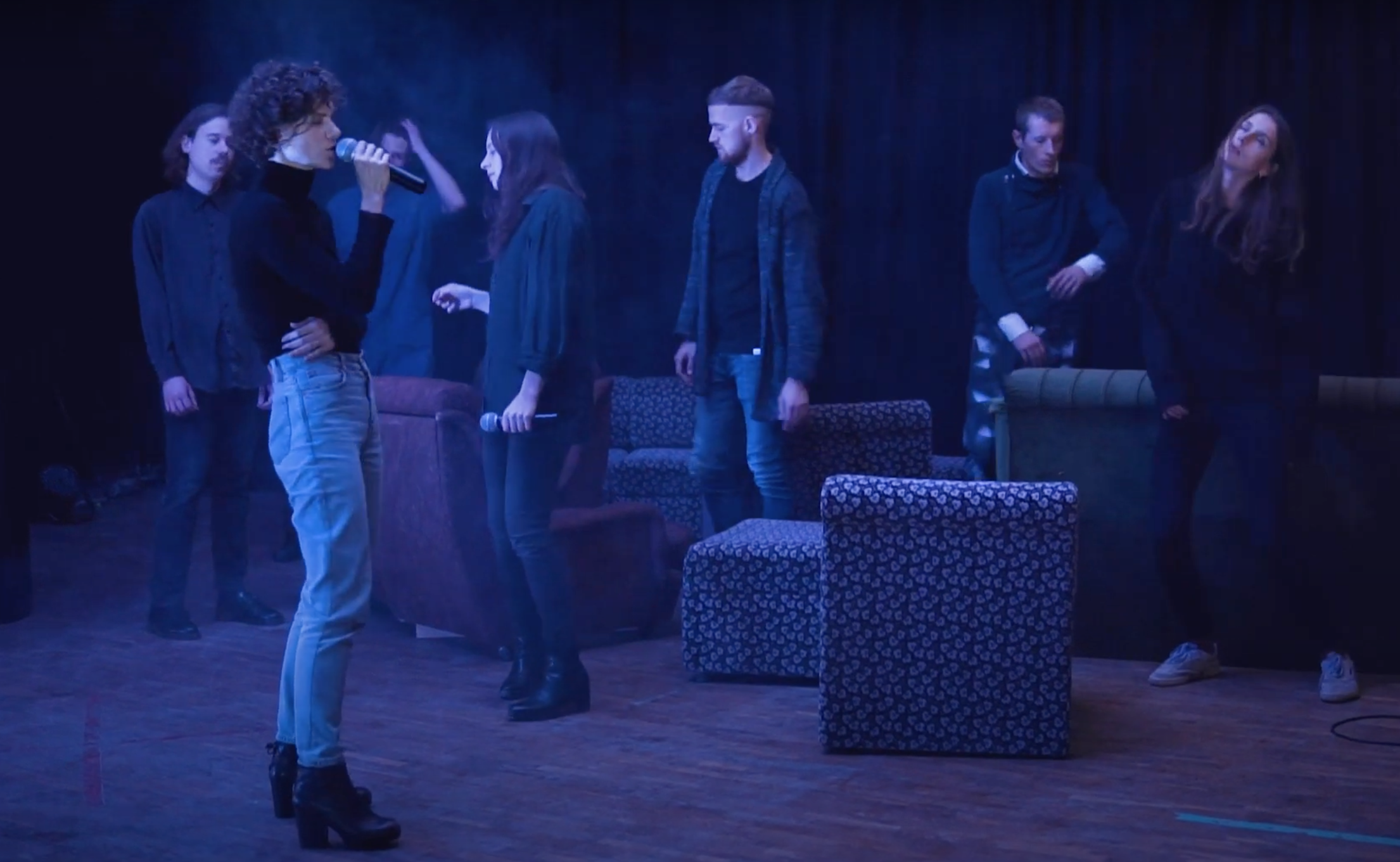 Wonder is often related to scale. Sometimes, we can move between two scales, from the intimate to the vast, like when we look at the sky with our naked eyes and then through a telescope; or when we are feverish and space appears to fall in on itself into a knot of intensity, condensed into something minute, intricate or exquisite only to then expand outwards in a rush, as if everything were etched on a stretch of elastic. Sometimes this feeling is simultaneous.
YOU ARE FACING THE GRASS SLOWLY GROWING.
THE GREENNESS OF YOUR POOL TABLE CALLS BIRDS AND FROGS.
THAT SCULPTURES CHEEK IN NAUGHTY MARBLE WRINKLES.
YOUR MANICURED NAILS BRUSH THAT LITTLE DIMPLE.
YOU'RE FACING THE SOFTNESS OF THAT MOISTURE MOSS.
AND THOSE PUDDLES ARE OUTLINED BY SHARP YELLOW POLLEN.
A CHILD JUMPS IN AND HIS EYE SLIGHTLY TICKLES.
SEEMS LIKE A LACK OF MAGNESIUM.
LUMEN BY LUMEN YOU SEE THE EVENING THICKENING.
These are the words of Viktorija Damerell which are worked into performances together with Gailė Griciūtė.
Damerell and Griciūtė go under the name Eye Gymnastics, which they formed as a performance duo in 2018. Damerell, an artist and writer who has also curated exhibitions, often with fellow artist Ona Jociūtė, is responsible for the text and scenography, and Griciūtė, a classically trained pianist, and a composer, improviser and sound artist, develops the sound. They perform together, sometimes wearing silicone face masks that strangely accentuate their foreheads. The way they move makes them appear like spiders, responsive to the vibrations around them. They are at once menacing and sensuous. The mise-en-scene of their performances is often suggestive of the domestic, but in a gothic way: dimly lit and atmospheric.
Both of the artists' wide-ranging practices include a fascination with the incidental and the detail. They make, to quote Anni Albers, space for '"almost art": for embellishment and for ornamentation: the elaborated detail'.¹ Damerell's work and her collaborations with Jociūtė, are marked by such elaborated details. These little twisted embellishments, like the extra tail placed on a rocking horse (Two Tales, 2018) protrude into our view, surprisingly and confusedly. Like awkward impediments and interruptions, they get in the way of smooth narratives or trains of thought. Suggestive, they promise something to come. This gives her work the feeling of both uneasy anticipation and humour, as if we were listening to the unfolding of a joke or becoming aware of something weird and sour in the atmosphere of a room.
There is a similar sensibility in Griciūtė's work. The sounds Griciūtė compiles are textural and intricate. When we listen to these sounds, it's as if we were not only listening but also touching and feeling them. They are curious sounds: we want to ask how they came into being and what mixture of materials and actions produced such rich and unexpected textures; we want to explore, play and grapple with them. Griciūtė underscores this playfulness in how she turns around and slightly twists a sound. In doing so, she asks us to listen deeply to sounds we thought, complacently, we 'knew', like rain falling on leaves, which in her work gradually (but we cannot quite say when) becomes something else – a kind of static that is like the dense, rough wool of a jumper (Synkrisis, 2018). This inflection of sound peels off to enter into counterpoint with other textures of sound, always opening up, always bringing into life different sonic fields. As in Damerell's work, these elaborated details swerve and shift, promising proliferation over closure, inviting us to keep going along with them as they move, drawing us into their world.
Wonder and a certain form of vulnerability go hand in hand. To be open to the world and what is around us – that is to be vulnerable to it – is what gives us the capacity to wonder. We need to cultivate attention in order to wonder. But cultivating this attention means unlearning habits that close us off from the world. Often, we do not want to be opened out or have something opened out to us. We feel there is too much responsibility, too much at stake: if someone or something opens out onto us they implicate us in the decision to commit to them, to decide that what has been opened up to us is a gift and needs to be taken care of. When we are busy in our own worlds, living precariously and living in a culture where individualism is the supposed source of our integrity, this kind of commitment, care and attention seem risky, too risky. But we are impoverished as a result. Eye Gymnastics is a lesson in moving together in mutual vulnerability:
THE WHOLE WORLD IS OPENING UP FOR YOU.
THE WORLD IS HERE FOR YOU,
ENLARGED, INTENSE, LUMINOUS.
AS IF IN A MOVIE THEATRE.
THE WORLD IS HERE FOR YOU.
THE COLOURS YOU NEVER WANTED TO EXPERIENCE,
BECAUSE YOU NEVER KNEW THEY EXIST,
NOW ARE OPENING UP FOR YOU.
THE WORLD IS HERE FOR YOU.
THIS INTENSE GREEN, SO INTENSE GREEN, SO INTENSE GREEN
IS OPENING UP FOR YOU.
THE WORLD IS HERE FOR YOU.
IT IS ALL PERVADING; IT GETS INTO YOU.
In Damerell's words, the definite article in 'the world' acts as a deictic. The world. The colours. Right here. Right now. Look! Here is both a general world and a specific, intimate, intensely felt world that emerges over time. Both worlds remain elusive because they exist only in their becoming. They cannot be possessed, only inhabited. At one point Griciūtė has mixed into a dark, deep synth 'background' the faintly heard frequencies of birdsong. These glistening vibrations draw our hearing into a close and embracing world, creating transitory 'nests' of sound.² These nests come and go. We do not 'stop' or grasp them, but follow the lines of their frequencies in time. Such moments are like the 'here', 'you' and 'this' that often comes through in Damerell's words. They do not reference a settled point or point of view, but an unsettled ground which, like a flower, is always in a state of efflorescing or un- and enfolding. And in this sense, the world that Eye Gymnastics conjures up is like life itself, moving always in formation. As Griciūtė has said regarding her earlier work, Soft Shoulders (2016), 'Navigation here is playful and guided, not by cardinal directions, but by sensory adventures, with a focus on auditory experience.'³ And Damerell: 'If the experience in question is a wave on the surface of water, pouring wax on it will produce a momentary replica. Soon we have more and more moulds, and the ocean still cannot be captured. In my practice I aim to break through this wax-covered surface and leave a gap that would allow us to sense that ocean underneath.'
When we really feel rhythm and vibration, we are carried along with them. At the same time, we must remain attentive to how we are attuned to them so we don't fall out of rhythm and get thrown off course. This experience of rhythm shows us how passivity and activity are always intertwined. We are never merely passively taken up by something nor do we only actively impose on a passive environment. To live fully with the world we must respond to what already exists . And there is so much there, if only we knew how to attend carefully to it. The world is there for you, Eye Gymnastics reminds us: we must now move along with it.
THE COLOURS YOU NEVER WANTED TO EXPERIENCE,
BECAUSE YOU NEVER KNEW THEY EXIST,
NOW ARE OPENING UP FOR YOU.
THE WORLD IS HERE FOR YOU.
Yates Norton is a curator at the Roberts Institute of Art. He often works closely with his companion and collaborator, David Ruebain, on disability justice work. His collaborations and work with artists include singing in Lina Lapelytė, Vaiva Grainytė and Rugilė Barzdžiukaitė's opera, Sun & Sea, which was awarded the Golden Lion at the Venice Biennale in 2019. He studied at the University of Cambridge, Harvard University and the Courtauld Institute of Art.
Eye Gymnastics is the stage name of Viktorija Damerell and Gailė Griciūtė. The artists collaborate on the creation of experimental music performances, which often feature verbal instructions, gradually evolving melodic inserts, spoken songs as well as verbal healing charms. In their vocal explorations, sensual timbres merge with deep beats, mental voyages, hypnosis and echoes of pop. Their debut album Nothing Supernatural was released in April 2022 on bandcamp: https://eyegymnastics.bandcamp.com/releases
Endnotes
1 Anni Albers, 'The Pliable Plane: Textiles in Architecture', Perspecta, 1957, Vol. 4, p.40.
2 Dennis Smalley, 'Spectro-morphology and Structuring Processes', The Language of Electroacoustic Music, London: Palgrave Macmillan, 1986, p.37.
3 Gailė Griciūte, Soft Shoulders, 2016, http://gailegriciute. com/soft-shoulders-2016/, accessed 23 October 2020.